Introduction
UNDP Administrator
When I joined UNDP as Administrator in June of 2017, I was pleased to be taking the helm at the world's leading development organisation. I had inherited from my predecessor, Helen Clark, a strong organisation that was recognized the world over for its transparency and bold action.
It was then, and is still, an organisation with a proud history of more than a half-century of helping countries in every corner of the world to fight poverty, create jobs, administer elections, prevent disaster, and recover after crisis. Our thousands of staff dedicate themselves every day to working with partners to achieve this and more.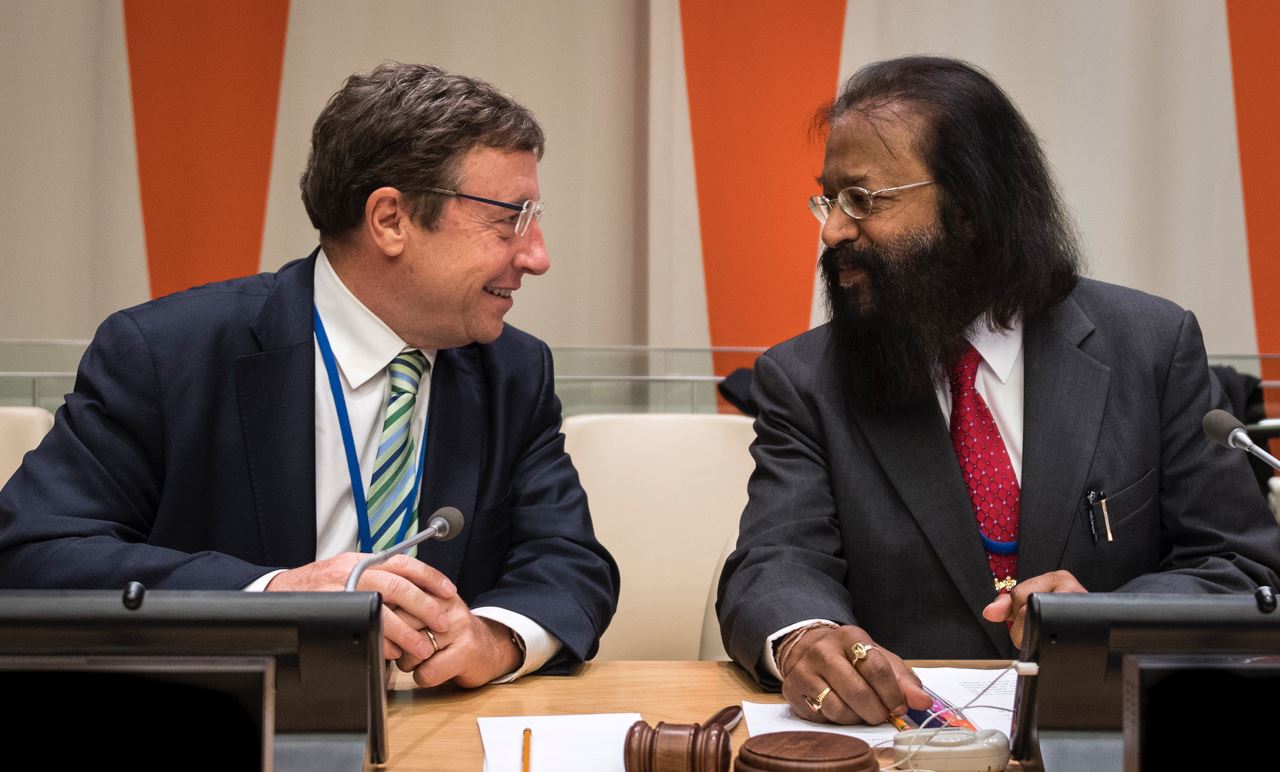 As we continue this work, the world is facing a set of unprecedented challenges.
A staggering 650 million people are living in extreme poverty — about 16% of them in fragile countries. Three billion people are using dirty sources of energy for cooking and heating. Every year, US $1.26 trillion is lost to corruption. In the past decade, 700,000+ people have been killed in climate-related disasters. There has been a 50% increase in CO2 emissions since 1990. Only 23.5% of the world's parliamentarians are women.
The challenges we face can seem overwhelming, and the temptation to give in to a dark vision of our future is great.
But there is much room for optimism. We can take heart that every country in the world has committed to a bold plan — the Sustainable Development Goals set out in the 2030 Agenda — to end poverty, fight inequality and tackle climate change. Recognizing this context, the United Nations, led by Secretary-General António Guterres, is undergoing system-wide reforms to remain effective even as more and different demands are made of it.
The universal commitment to the Sustainable Development Goals and UN reform together present UNDP with a tremendous opportunity to help countries become more peaceful and prosperous.
That's why UNDP is transforming for a new era of sustainable development. Our innovations and reform are described in our new Strategic Plan 2018-2021, the frst plan to be conceived and carried out entirely in the era of the Sustainable Development Goals. The Plan identifes six 'Signature Solutions' that build on our strengths as an organisation; we will use these solutions to focus our resources and expertise, and make a real impact on poverty, governance, energy, gender, resilience, and the environment.
We understand that development does not happen overnight, but is nevertheless urgent. With a network encompassing 170 countries and territories, we are supporting governments across the globe as they transform societies.
UNDP will do this work with the rest of the UN system and our partners. We remain committed to the highest standards of transparency and accountability to the people, governments, institutions, and organisations with which we work.
With a more dynamic UNDP offering even more support to countries on the frontlines of the biggest challenges, we will take another step towards achieving the Sustainable Development Goals.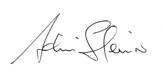 Achim Steiner
Administrator
United Nations Development Programme
A new plan for a new era
UNDP Strategic Plan 2018–2021
FROM HELPING PARTS of Iraq to stabilize after conflict, to supporting historic open elections in Zimbabwe, to our work in the Maldives on climate change, and building a lasting peace in Colombia, UNDP helps 170 countries to reach their development priorities so that no one is left behind.
The Strategic Plan is an essential tool for UNDP to continue to evolve and adapt over the next four years to drive strong progress towards the Sustainable Development Goals (SDGs).
UNDP and the UN Sustainable Development Group
UNDP plays an essential role in the development work of the larger UN system.
The UNDP Administrator is the Vice-Chair of the UN Sustainable Development Group, which unites the funds, programmes, specialized agencies, departments and offices of the UN system that play a role in development. The UN Sustainable Development Group is instrumental in enabling action on the ground and ensuring that UN Country Teams have the support, guidance and impartial oversight required as they help governments deliver on the 2030 Agenda.

UNDP's new Strategic Plan heralds some big changes to help countries meet the SDGs by the target date of 2030. These include:

SIGNATURE SOLUTIONS
A set of integrated responses to development in the following areas: poverty, governance, resilience, environment, energy access, and gender equality. Each Solution includes a mix of policy advice, technical assistance, finance, and programmes. Today's challenges are complex and each country is different. That's why we tailor our work to fit the needs of the countries we serve.

GLOBAL AND COUNTRY PLATFORMS
Support within and across countries: Our new Global Platform leverages expertise from around the world to support individual countries, and a Country Support Platform in each country harnesses the collective policy and covening power of the UN, and ramps up innovations for development.

DOING BUSINESS BETTER
We're boosting our performance to maximize return on every dollar invested. What's more, we're harnessing cutting-edge technologies and research to generate new ideas to test and scale up.
The road to success:
Signature Solutions
To better focus its resources and expertise to deliver on the 2030 Agenda, UNDP has identifed a set of approaches that we call our Signature Solutions. No one solution will succeed on its own. We need all of them to achieve the SDGs. Each solution has the potential to unlock the path to sustainable development.


UNDP's Signature Solutions are cross-cutting approaches to development— for example, a gender approach or resilience approach can be applied to any area of development, or to any of the Sustainable Development Goals. The matrix above shows how the Signature Solutions interact with our work on the SDGs.
On the following pages, you'll see stories of the six Signature Solutions at work. Spanning the five regions where we work, these stories illustrate the experience, dedication, and innovation that UNDP applies to the task of achieving the SDGs.
Partnerships
No single entity alone can achieve the 2030 Agenda — the Sustainable Development Goals are a declaration of interdependence. Delivering on the promise of the SDGs will involve or affect every country, every economy, every private company, every non-governmental organisation, every academic institution, and every UN agency.
The breadth and depth of UNDP's partnerships is already unparalleled. Few organisations work as closely as UNDP does with such a wide mix of partners — public and private — across so many different contexts. But the challenges the world faces requires even more. To better help the countries and people we serve, UNDP will build new and stronger partnerships with governments, the private sector, international financial institutions, non-profit organisations, academia, and others. The 2030 Agenda, with its targets and deadline, gives us a clear foundation on which to forge longer-term partnerships.
For over 50 years, UNDP has valued the trust of all its partners, and understands that such trust must be earned.
From artificial intelligence to climate change, the world is on the cusp of dramatic changes. For this reason, a dynamic, effective and future-focused UNDP is needed now more than ever. That kind of UNDP — the one we envision in the new Strategic Plan — will be possible only with the continued support and close collaboration of our valued partners.
PARTNERSHIPS IN COUNTRIES
UNDP focuses on helping countries achieve their development goals. Countries are at the centre of our partnerships. From Afghanistan to Zimbabwe, UNDP provides expertise, networks, and other resources to 170 countries as they face their own specifc challenges.

PARTNERSHIPS ACROSS THE UN SYSTEM
UNDP plays a vital role as part of the UN family and the development system, providing world class advice, services and support across the broad spectrum of settings in which we operate. Among our partners within the UN system are:

PARTNERSHIPS WITH ACADEMIA
UNDP recognizes the important role that academia can play in understanding and addressing the world's most pressing development challenges. We partner with top academic institutions in Africa, Asia, Europe, and North America.

PARTNERSHIPS WITH REGIONAL ORGANISATIONS
UNDP partners with regional associations such as the African Union, the European Union, and the Association of Southeast Asian Nations (ASEAN). These partnerships are tailored to the needs of the region and the partners, and focus on a range of issues, such as public health, good governance, disaster risks and resilience, human rights and the rule of law, access to justice, and gender equality.

PARTNERSHIPS WITH THE PRIVATE SECTOR
UNDP's private sector experience is underpinned by strong relationships with governments, deep understanding of development, and expertise in sustainable business. In 2017, we worked with thousands of businesses, from the largest of global brands like Microsoft and Visa, to small companies, social enterprises, and local cooperatives. These partnerships mean more effective action in all the programme areas in which UNDP works.

PARTNERSHIPS WITH INTERNATIONAL FINANCIAL INSTITUTIONS
UNDP's engagement with international financial institutions (IFIs) is critical to help governments leverage additional financing, expertise and advocacy for greater development impact. UNDP currently works with 15 IFIs (including multilateral, regional and national development banks with international objectives), such as the World Bank, the Islamic Development Bank, and the Asian Development Bank.

Partnering with the world
PREVENTING CONFLICT

Established in 2004, the Joint UNDP-UN Department of Political Affairs Programme on Building National Capacities for Conflict Prevention brings together the development and political arms of the UN to enhance the organisation's support to countries in sustaining peace. The Joint Programme has worked with over 50 countries and supported national architectures for peace, mediation, and dialogue. It brings a multi-faceted approach to conflict prevention, capitalizing on the diversity of the UN system. For example, UNDP and DPA have been working closely together with the Government of Papua New Guinea and the Autonomous Bougainville Government (ABG) in preparing the steps for a referendum on the future constitutional status of Bougainville, to be held by the end of 2020.
CREATING JOBS AND RESTORING SERVICES

In Yemen, UNDP received a $300 million World Bank International Development Association grant for a three-year project (2016-2018), providing short-term employment and service restoration in over 300 districts, supporting local institutions to create over 9 million working days for 400,000 families, and helping 2.5 million Yemenis access basic services.
INSURING FARMERS AGAINST CLIMATE CHANGE


Agriculture is a main source of income in Ethiopia, and farmers are vulnerable to erratic rainfall, crop failure, and other effects of climate change. UNDP collaborated with government ministries and two insurance firms in Ethiopia, Oromia and Nyala, to provide farmers with crop insurance. If rainfall is below a certain threshold, the company pays insurance claims while UNDP covers the insurance premium. Over 12,000 smallholder farmers have already benefited.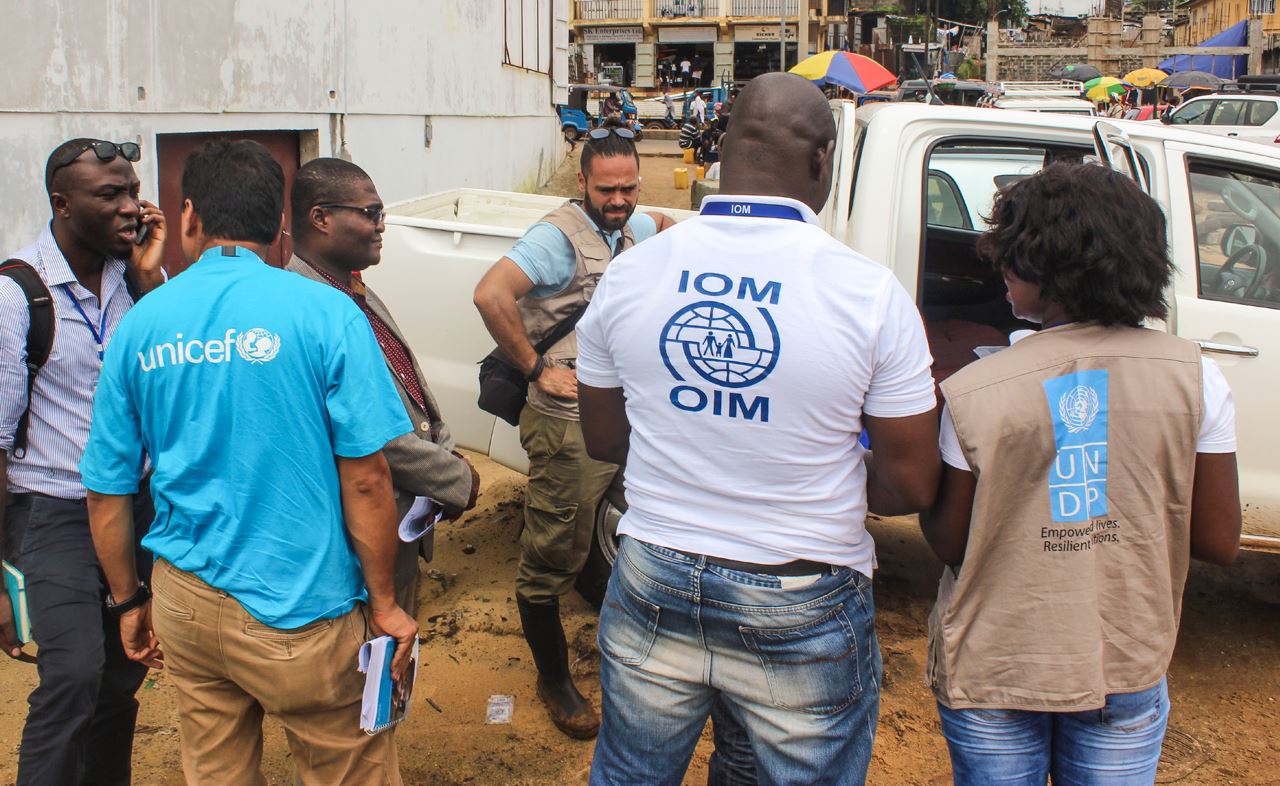 Hosting specialized functions of the UN system
UNDP is a vital part of the UN family, and facilitates much of the work of other UN agencies. We administer payroll for approximately 17,700 non-UNDP personnel across the system. We provide shared premises and common services for agencies in 113 countries, and close to $700 million in financial services to the system. In addition, UNDP administers the UN Capital Development Fund (UNCDF) and UN Volunteers (UNV), and hosts the UN Office of South-South Cooperation (UNOSSC) and the Multi-Partner Trust Fund (MPTF) Office.
In this and other ways, big and small, UNDP is essential to the entire UN system's efforts to achieve the SDGs.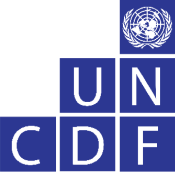 UNITED NATIONS CAPITAL DEVELOPMENT FUND
The UN Capital Development Fund, administered by UNDP, makes public and private finance work for the poor in the world's 47 least developed countries.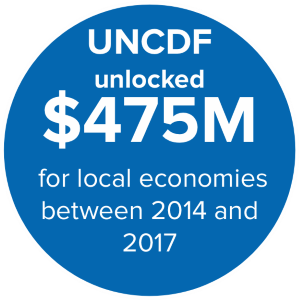 UN VOLUNTEERS
UNDP administers the UN Volunteers programme, which in 2017 mobilized nearly 25,000 UN Volunteers in 131 countries and online; they represented 159 nationalities.

UN OFFICE FOR SOUTH-SOUTH COOPERATION
Hosted by UNDP since 1974, the UN Office for South-South Cooperation promotes, coordinates and supports South-South and triangular cooperation globally and within the United Nations system.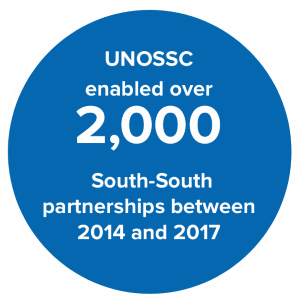 MULTI-PARTNER TRUST FUND OFFICE
UNDP houses the Multi-Partner Trust Fund Office, which allows multiple donors to pool their funding to support large-scale projects and initiatives of the UN system and national governments.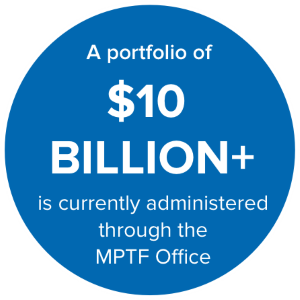 Progress in numbers
UNDP results 2014-2017
UNDP is rightly judged by those we serve and partner with on how well we're able to measure and deliver results. This level of transparency and accountability is a hallmark of UNDP.
But UNDP is not content to rest on the progress that we've worked with countries to achieve. That's why in UNDP's new Strategic Plan we commit to enhance our business model, cultivate new partners, and, as always, work globally across sectors and the Sustainable Development Goals.
That means ever-greater results in the years to come, and maximum impact for every dollar invested.

Nearly 170M NEW VOTERS to register in 52 countries

37.3M PEOPLE to benefit from improved livelihoods

More than 6.7M PEOPLE to have improved access to energy in 55 countries
4.1M PEOPLE to gain access to legal aid services in 39 countries, 51% of them women

Nearly 3M PEOPLE to find new jobs, 41% of them women

2M PEOPLE to receive antiretroviral treatment in 22 countries (as of mid-2017)
104 COUNTRIES to implement low-emission and climate-resilient measures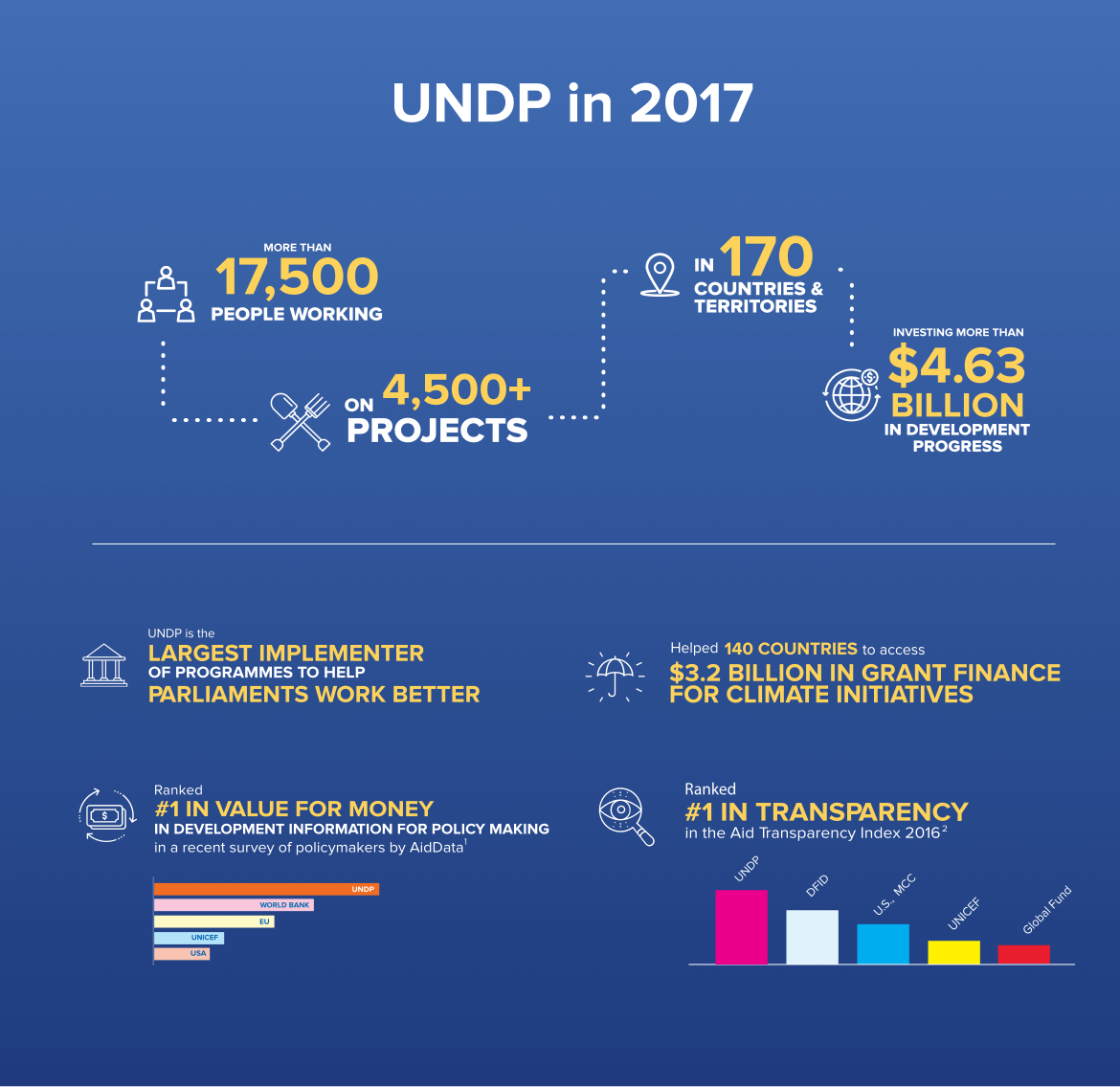 Resources
In 2017, contributions totalled $4.9 billion, an increase of 1% over 2016.
UNDP distinguishes between regular resources, contributed annually for its core activities and functioning, and earmarked resources, contributed for a specifc activity, project, or theme.
In 2017 as compared to 2016:
Regular resources decreased to $0.612 billion from $0.618 billion.
Earmarked resources, excluding reimbursable support services, increased to $4.22 billion from $4.16 billion. This includes contributions from programme country governments to projects in their own countries (government cost sharing), which grew to $1 billion from $892 million.
Contributions by Funding Channel in 2017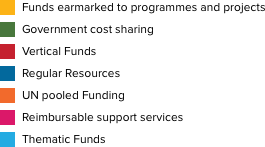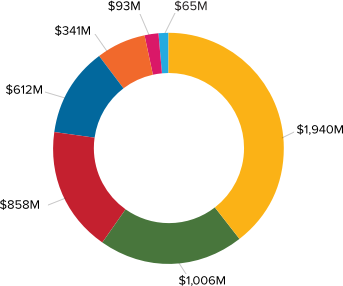 Thematic Funding Windows
In 2016, UNDP launched a number of Thematic Funding Windows. Through these Funding Windows, contributors can invest in a particular thematic area while allowing UNDP to allocate the funds to the activities and locations where they are needed the most. The Funding Windows also make for lower transaction costs on financial contributions as compared to other earmarked modalities. Flexibility and lower costs means better results.
Total contributions of $99 million have been received through the Thematic Funding Windows since their launch.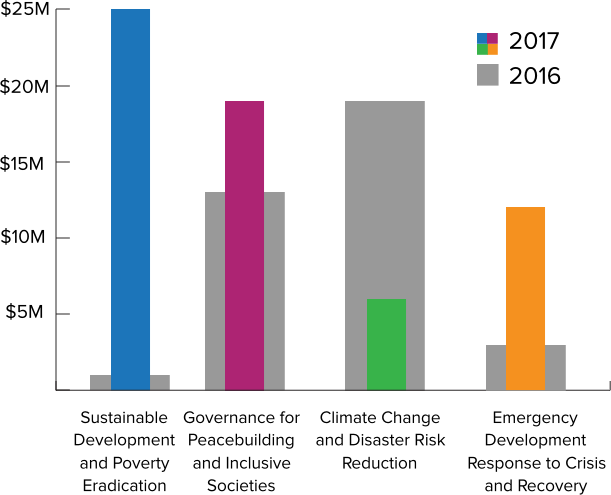 Top 30 Government Contributors to UNDP in 2017
| | | | |
| --- | --- | --- | --- |
| Government | Regular | Other | Grand Total |
| Germany | $28,479,531 | $311,223,290 | $339,702,821 |
| Japan | $66,301,590 | $238,250,370 | $304,551,960 |
| United States of America | $79,804,287 | $182,673,868 | $262,478,155 |
| United Kingdom | $72,559,367 | $142,847,390 | $215,406,756 |
| Argentina | - | $213,528,279 | $213,528,279 |
| Sweden | $70,525,392 | $98,610,429 | $169,135,821 |
| Norway | $64,241,114 | $84,532,740 | $148,773,855 |
| Ukraine | - | $140,234,077 | $140,234,077 |
| Switzerland | $56,660,040 | $57,964,907 | $114,624,947 |
| Denmark | $27,252,612 | $59,936,208 | $87,188,820 |
| Italy | $5,903,188 | $76,203,185 | $82,106,372 |
| Netherlands | $29,692,471 | $47,759,684 | $77,452,155 |
| Colombia | - | $67,890,514 | $67,890,514 |
| Canada | $30,581,040 | $24,544,465 | $55,125,504 |
| Senegal | - | $53,179,990 | $53,179,990 |
| Republic of Korea | $8,500,000 | $27,013,123 | $35,513,123 |
| Panama | - | $34,743,855 | $34,743,855 |
| Paraguay | - | $32,220,650 | $32,220,650 |
| Saudi Arabia | $2,000,000 | $29,431,058 | $31,431,058 |
| China | $3,800,000 | $27,078,549 | $30,878,549 |
| Australia | $9,684,170 | $19,518,521 | $29,202,691 |
| Dominican Republic | - | $28,819,499 | $28,819,499 |
| Togo | - | $27,750,864 | $27,750,864 |
| Egypt | - | $27,397,796 | $27,397,796 |
| Russian Federation | $1,100,000 | $25,908,371 | $27,008,371 |
| Brazil | - | $22,148,912 | $22,148,912 |
| Turkey | $3,000,000 | $19,006,363 | $22,006,363 |
| France | $9,836,759 | $9,892,410 | $19,729,169 |
| Uruguay | - | $19,515,001 | $19,515,001 |
| Guatemala | - | $18,655,108 | $18,655,108 |
Global Events in 2017
OCEAN CONFERENCE

---

June 2017 marked the historic Ocean Conference, with its powerful message about global interconnectivity: the 'seven seas' are, in fact, one shared ocean. With the support of UNDP, this game-changing event secured more than 1,300 commitments from the international community to protect the ocean. UNDP works with over 100 countries to restore and protect life under water, and better manage marine resources. From reducing the risks of marine-invasive species to creating protected areas in Belize, or safeguarding fishing livelihoods in India, UNDP is tackling many urgent threats to our life-sustaining ocean.

THE GLOBAL GOALS WORLD CUP

---

UNDP is a major partner in the Global Goals World Cup, an open women's soccer tournament that fuses sport, teamwork, and advocacy for the Sustainable Development Goals. In September 2017, the winning teams from each tournament met in New York City for the 2nd Global Final, helping to kick-off UN General Assembly Week. Participants included a team from Liberia championing universal access to clean water, a team from Ecuador fighting for quality education, and a local East Harlem team striving to end inequality.

GENERAL ASSEMBLY 2017

---

UNDP leaders were active in events in and around the 2017 UN General Assembly. UNDP Administrator Achim Steiner hosted a high-level side event on "The SDGs in Action," and also presented the awards to the 15 winners of the 2017 Equator Prize for climate action, at a ceremony at The Town Hall theatre in New York. Also during GA Week, UNDP released a landmark report on income inequality in Africa as well as a short film on the joint work of humanitarian and development actors in Somalia.

PLEDGING CONFERENCE FOR THE CARIBBEAN

---

In November 2017, UN headquarters held the CARICOM-UN High-Level Pledging Conference — an event to engender support to build more climate resilience across Caribbean countries. With over 400 high-level representatives from governments, multilateral and civil-society organisations and the private sector in attendance, UNDP emphasized the need for a new financing architecture to address Small Island Developing States (SIDS), such as the ones affected by Hurricanes Irma and Maria earlier in the year. The conference's message to "Build Back Better" resonated; participants made over $1.3 billion in pledges, and over $1 billion in loans and debt relief.

THE UN CLIMATE CHANGE CONFERENCE

---

In November 2017, the Conference of the Parties (COP23) was held at the World Conference Center in Bonn, Germany, under the Presidency of Fiji. UNDP's delegation — led by Administrator Achim Steiner — participated in 30 key events during the conference. With the Paris Agreement and national climate targets in place, UNDP's focus has transitioned to supporting countries' shift into accelerated action and implementation. In conjunction with COP23, UNDP also helped initiate the Pathway to Paris "Chorus for Climate Action," a star-studded, sold-out concert at Carnegie Hall in New York City.

SOCIAL GOOD SUMMIT

---

In September 2017, the Social Good Summit (SGS) examined how we can unlock technology's potential to make the world a better place. Held annually during UN General Assembly Week, SGS unites a dynamic community of global citizens and progressive thought leaders around the theme of #2030NOW. Organized by UNDP in partnership with the UN Foundation and Mashable, the Summit featured a flagship event in New York City, with five panels led by UNDP leaders or Goodwill Ambassadors, and events in 87 other countries, from Madagascar and to Albania, Myanmar, Tunisia, El Salvador, and others.
UNDP's Reach
UNDP has 129 offices with programmes and operations in 170 countries